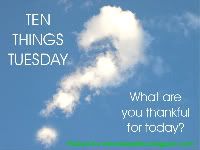 What a gorgeous couple of days we've had! It's been wonderful to enjoy some sunshine without all the heat and humidity. Playing outside and even working in the yard have been a treat.

My in-laws are coming tomorrow, so in honor of their visit, today's list will be just 10 of the things I appreciate about my family-by-marriage...

1. They truly think of me as their own and treat me as such.

2. They love to travel! I love to hear about all the exotic places they visit...Hawaii, Panama, Florida Keys, Branson....;) As a bonus, my MIL always brings us cookbooks from the places they visit.

3. Technically, both my mother & father-in-law are retired, but the truth is that they are full-time shepherds at their church. They go to the hospital several times a week, sit with the sick, check on the shut-ins, lead a grief recovery group, visit families in crisis--I can't even keep up with all the ways they serve the flock there.

4. They love to try out new restaurants, so eating with them is always a culinary adventure.

5. They adore John Mark! Their support throughout our adoption process was just amazing, and they welcomed their grandson with open hearts. I just love seeing them all together.

6. My sister-in-law has been a single mom for about 8 years now, and she has made many sacrifices in order to be a stay-at-home mom during that time. She is one of the strongest people I have ever known.

7. SIL is "den mom" for her son's scout troop and goes on every camp out, fishing trip, backpacking trip and pinewood derby race known to man. And never complains about it!

8. Both my parents-in-law and my sister-in-law bought webcams so they can talk to to John Mark online. Yes, it's pretty ridiculous. Yes, it's also pretty adorable.

9. My nephew has an amazing head for science. He loves to take things apart and see how they work. Rockets, chemical reactions and physics problems fascinate him.

10. This family has gone through many heartbreaking losses in the last 10 years, but they remain faithful to God and secure in His love. Their commitment to the Lord is a blessing to everyone who knows them, and I'm especially thankful that my son will grow up experiencing this kind of faith.